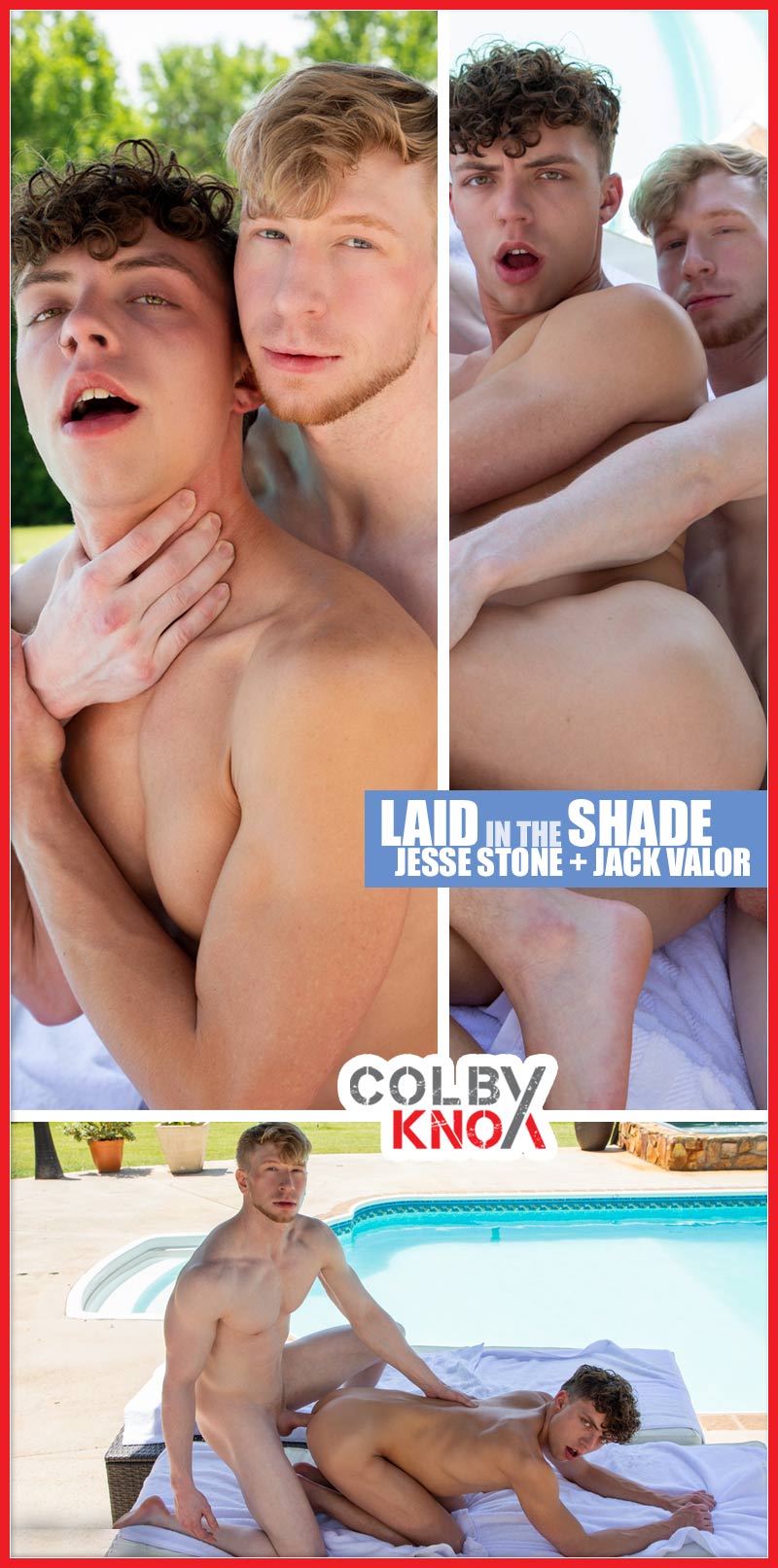 Jack Valor Bottoms for Jesse Stone in 'Laid in the Shade' at ColbyKnox:
Jesse Stone and Jack Valor engage in a conversation by the poolside. Jesse starts by admiring Jack's physical appearance, complimenting him on his amazing body. Jack expresses his gratitude and reveals that he has been working out extensively. The conversation takes a flirty turn as they discuss Jack's tan, acquired during his time in Europe.
Exploring Mutual Desires:
As their conversation progresses, Jesse begins to explore his own desires. He teasingly strokes his arousal while Jack's gaze is fixated on him. The tension between them intensifies, and Jesse can't resist reaching out to touch Jack's tanned derriere. Jack willingly leans over and reciprocates the gesture by stimulating Jesse's manhood, igniting a fiery connection between them.
Pleasure and Passion Unleashed:
The scene unfolds with Jesse lavishing attention on Jack's buttocks, alternating between caressing and licking. The sensual touches elicit moans of pleasure from Jack, who eagerly positions himself on all fours. Jesse Stone takes advantage of the opportunity, skillfully pleasuring Jack's intimate spot with his tongue. Jack's fervent response indicates just how good it feels.
Intense Connection and Passionate Kisses:
The desire between Jesse Stone and Jack Valor reaches its peak as they share deep kisses and intimate embraces. Jesse takes control, penetrating Jack's eager and welcoming body with powerful thrusts. The pleasure is mutual as they establish a rhythm, increasing the intensity with every stroke. Jack's fervent pleas for more showcase the passion between them.
Unforgettable Climax:
Jesse Stone continues his passionate exploration, moving Jack Valor to the edge of the chaise lounge. As Jack pleasures himself, Jesse remains focused on making this encounter memorable for him. With each stroke, Jesse builds the intensity, ensuring Jack will remember this moment forever. When Jesse reaches his climax, he releases his load deep inside Jack, marking the culmination of their passionate union.
Afterglow and Conclusion:
After their intense encounter, Jesse Stone withdraws from Jack Valor, leaving behind a visual testament to their connection. The camera captures the sight of cum trickling out of Jack, evidence of their intense pleasure. They both bask in the afterglow, savoring the experience they shared together.
Conclusion:
The ColbyKnox pool sets the stage for a captivating and passionate scene between Jesse Stone and Jack Valor. Their chemistry, desire, and shared pleasure create a memorable encounter that will leave a lasting impression on both performers and viewers alike. ColbyKnox continues to deliver quality content that captures the essence of human desire and connection.
Watch as Jesse Stone Fucks Jack Valor at ColbyKnox
Watch as Jesse Stone Fucks Jack Valor at ColbyKnox