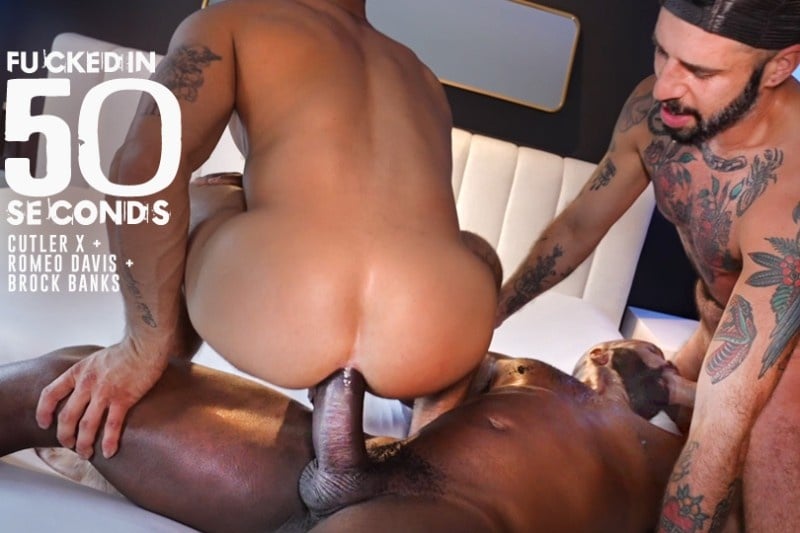 Wanna know why the latest Cutler's Den movie is called Fucked in 50 Seconds? It takes Brock Banks' hole 50 seconds to get used to Cutler X's fat 11 inches. Yes, it takes nearly a minute for Brock's ass to finally ease up so that Cutler X can pound his hole deep.
Even Romeo Davis' nearly nine inches doesn't warm Brock's hole up enough — Cutler's massive cock is still a challenge. But his hungry hole relents and Cutler buries his monster balls deep. Ever hear a bottom beg for mercy?

Watch This Hole Stretching Threeway & 275 Other Big Dick Videos!
Romeo Davis and his 8.5 inches have appeared five times on Cutler's Den. He has topped four times, including another threeway with Cutler X, but Romeo's most recent scene saw him bottoming for Cutler X. That was a hole stretcher you don't want to miss.
Sexy hunk Brock Banks has also appeared on Cutler's Den five times and he's only bottomed. But Cutler X's cock is not the biggest he's taken up his ass — his debut scene on the site was with Roxas Caelum who is packing a magnificent 12-inch cock.
Watch full scene at Cutler's Den
Read our Cutler's Den review